posted on Sep.28, 2011
WTSR music reviews are back.  In this edition we are tackling two albums that have both come out in recent months.  There's Yellow Ostrich's debut album and Kevin Devine's latest album. What do we think?  Well, read on to find out.
Yellow Ostrich
"The Mistress"
Release Number: Debut
Hailing From: New York, New York
Genre: Experimental Ambient Pop
Label: Barsuk
FOUR STARS OUT OF FIVE
In the months before Yellow Ostrich released their debut album, The Mistress, they just seemed to appear. They released the album for free on their bandcamp but then put out a formal release, complete with three extra tracks.
Though this band contains members of Fool's Gold and Beirut, the main focus of the group seems to be on Alex Schaaf. His vocals have a high pitched, yet smooth, quality about them and combine well with the masterful instrumentation and the wonderful vocal harmonies. As a band, they are hard to pin down. They are a pop band, at their most basic level, but there's also a hefty bit of ambient and experimental elements here. From the experimental "WHALE" to the poppy "Hate Me Soon" to the subdued harmonies of "Hold on," their sound undergoes small fluctuations between tracks that keep the album fresh even after repeated listens.
Yellow Ostrich might have come out of nowhere, but they are certainly not going back. They cannot, not after putting out such an uplifting and excellently constructed album. From open to close, this album features plenty of mood and tone changes, changes in tempo, and even slight changes in style, but one thing stays the same, its amazing quality.
Focus Tracks: "Hate Me Soon," "Mary," "Bread" and "WHALE"
Kevin Devine
"Between the Concrete & the Clouds"
Release Number: 6th
Hailing From: Brooklyn, NY
Genre: Folk/Singer-Songwriter
Label: Favorite Gentlemen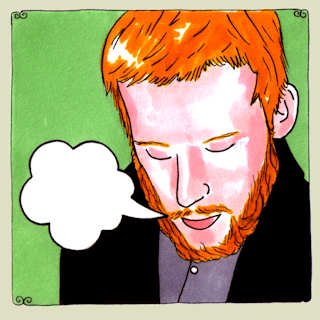 THREE STARS OUT OF FIVE
Kevin Devine has had a pretty busy year.  Late in 2010, he collaborated with Manchester Orchestra and released an album under the name Bad Books.  Now he's released his sixth solo album, Between the Concrete and the Clouds.
This album is a little different from his past efforts.  Previous albums did not have such a populated feel and were full of simpler songs that mostly featured an acoustic guitar.  However, on this album, Devine seems to have picked up some tricks from Manchester Orchestra.  He's added more instrumentation and that makes this record have a soft indie rock feel. But not everything has changed.  On top of the new instrumentation, Devine is still singing with the distinctive voice of his.  His croon is what keeps this feeling like a Kevin Devine album and it sounds just as good as on previous albums.
Between the Concrete and the Clouds might not have been exactly what was expected, but the best albums rarely are.  Kevin Devine has done well and has changed enough to keep his sound fresh, but not enough to completely overhaul it.  The result is a rather good album, though not his best.
Focus Tracks: "Between the Concrete and the Clouds," "Awake in the Dirt," and "The City Has Left You Alone"